Advantage Acura of Naperville
We have a team of qualified car repair and maintenance technicians standing by to help you with any of your service-related needs. From oil changes, tire rotations, and brake pad replacements to transmission problems, we've got trained technicians who are able to help. We also assist customers with wheel realignment, new part installation, and even offer comprehensive interior & exterior detailing work. Be sure to contact us if you have any questions or concerns for our car maintenance shop.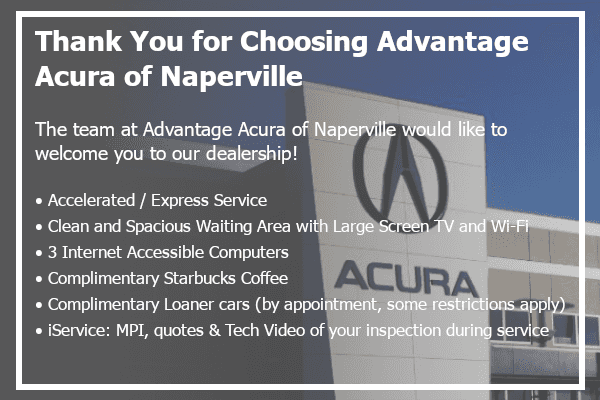 What Services Do We Offer?
Your Acura vehicle is meant to take you through Aurora and Oswego with ease, but we highly recommend regular maintenance to keep your vehicle humming nicely. Whenever your vehicle displays that you need Acura B1 or B2 service, be sure to check out our car repair shop today.  Keep in mind that your specific Acura vehicle requires different maintenance needs and inspections from other vehicles, so be sure to consult your owner's manual. Allow us to break down B1 auto service tasks below:
Driveshaft boots
Fluid levels
Exhaust system
Tire rotation
Vehicle braking system
Tire repair kit
Tie rod ends
Steering system
Suspension components
The B2 service includes basic maintenance performed with B1 maintenance, in addition to:
Fluid levels
Exhaust system
Air cleaner element
Dust & pollen filter
Drive belt
Vehicle braking system
Tire repair kit
Tie rod ends
Steering system
Suspension components
Driveshaft boots
Visit Us For Car Maintenance in Naperville
Please use the buttons below to schedule service at our auto service shop. You can also call us at 630-392-2009. Be sure to browse some of our service specials as well for addition savings on some of your necessary maintenance needs. If you would like to learn more about how to upkeep your vehicle on your own or more specifics on how your vehicle works, be sure to browse our service and parts tips.